As soon as I found out that the Indigo Girls were going to be in Carmel, Indiana—less than two short hours from my West Central Fort Wayne home—I knew July was going to be different.  I suppose I've mentioned that so far, 2011 hasn't been our year.  July has indeed been better.  We did indeed deepen our debt in order to nurture our souls in Carmel, a place I had never before associated with soul-nurturing.
Everything about the show was perfect.  First, the timing was good.  It was at 7:00 on a Sunday night, which meant we could drive down there and back without too much discomfort at work the next day.  Indeed, we were back in the Fort by midnight.
Furthermore, the venue was quite lovely.  The Center for the Performing Arts in Carmel is brand new, and the Indigo Girls played at a theatre there called The Palladium.  This is what it looks like from the outside:
And this is what it looks like from the inside:
(Andy took some better photos, but this isn't his blog, is it?)
The show itself was of course incredible.  It was just Amy and Emily without a band of any kind.  They were both in noticeably good moods as they bantered with each other and with the crowd.  They played two new songs from their upcoming album, Beauty Queen Sister.  Ever the egalitarians, they played one new Amy song and one new Emily song.  The Amy song is called "Share the Moon" and I took a video.  The visual is less than enticing as we were seated in the balcony and I was using my phone to take the video.  The audio is OK, though.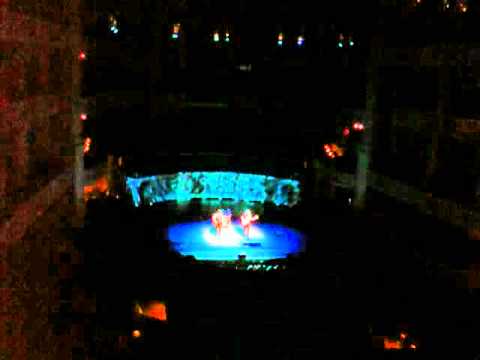 The Emily song is called "We Get to Feel It All."  Some yahoo sitting next to us decided this was a good time to get up to use the bathroom or run to the bar so please forgive the temporary jarring.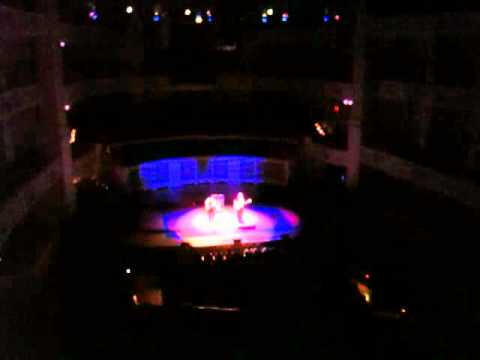 Yeah, both songs are kind of about the moon.
More than the music itself, I enjoyed the experience of being with other Indigo Girls fans.  As soon as we arrived, I began to notice Subarus with HRC stickers, women with buzzed hair, and more than one rainbow t-shirt.  "These are my people," I told Andy and Bethany, as if they didn't already know.  Of course, the crowd wasn't just lesbians.  We were there, for one thing, and I saw more than one ostensibly straight couple with their kids.  I love it when people bring their kids to see the Indigo Girls.  The people sitting directly in front of us were probably in their sixties.  There is a type at Indigo Girls concerts, but it isn't the only type.
And they played "Dairy Queen," which I had never heard live before.
And we're spending all next weekend at the lake.
Yes, July is going to be our month.