When Logan was born, one year ago today, I was probably sick. I was pretty much sick all last summer until I had that troublesome gallbladder removed so during his first two months of existence, I barely saw Logan. I still don't see him as much as I'd like, but I no longer feel like he doesn't know me. Sometimes, when someone else (*cough* Bethany *cough*) is holding him, he reaches out for me. Basically, we're tight.
When Logan's sister was born, it sort of changed my life. Suddenly, I had access to all these warm-and-fuzzy feelings I didn't even know I possessed. I loved Madeline instantly and completely. When I learned there was to be a Logan, I was nervous. What if he wasn't as special as Madeline? What if he had to grow on me instead of just capturing my entire heart right away? And, frankly, what if he wasn't as cute as Madeline?
Well, obviously, I wasted a lot of time worrying over nothing. It's really embarrassing to admit now.
This kid is equally as captivating as his sister. I suppose that the sibling relationship naturally invites comparison and their age difference doesn't help the situation. Here, though, such comparison is just utterly useless. Already, these are two distinct types of people. Logan is very serious and very quiet, making him very much my kind of person. He doesn't really talk, unlike his hyper-articulate, spotlight-stealing sister, but he doesn't really need to talk. I almost always know what he wants and how he feels. He is curious, which is probably why he's been walking now for two months. Don't believe me? I have proof!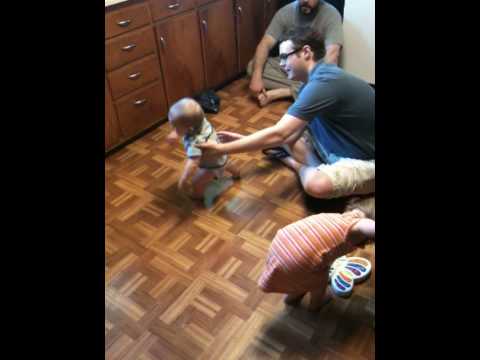 Yep, he's pretty special. I guess I will get him something other than this blog post for his birthday, after all.